Happy Tails
Bear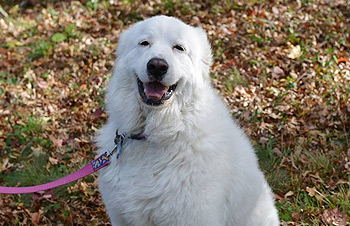 It has been just over a year since we adopted Bear, approximately a 3 year old Great Pyrenees (or "Pyr"). She is doing great, and is the talk of our community for her beauty, grace and calm demeanor. I took pictures of her today while we were walking her on one of the Bay Circuit recreation trails (http://www.baycircuit.org) in Newbury MA. This trail is one of our favorites because of the view of the ocean.

Bear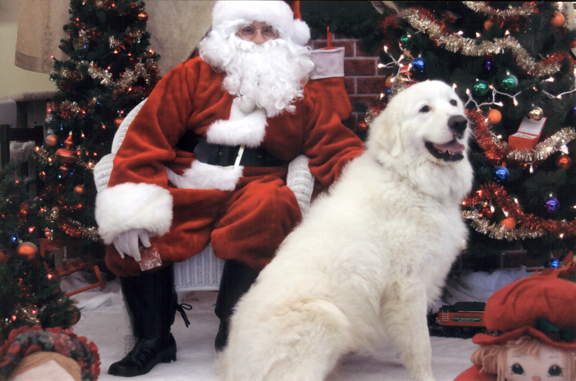 Bear was adopted by Tom and Marybeth Gerrish in September of this year. Her coat was shaved when they got her. Now she looks wonderful.
Summer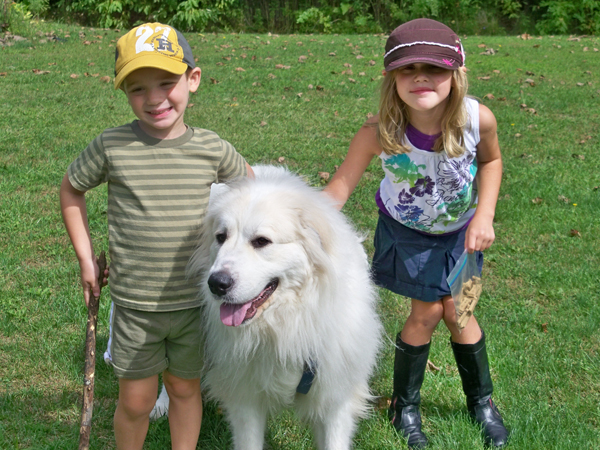 We originally adopted Bella (we changed her name to Summer) to keep our aging male pyr company. Summer came to us scared of everything. Mostly the daylight, since she was kept in a basement for her last year. Our family has given her a friendly home where she can feel safe. What we didn't know was that we humans needed her as much as our male pyr did. When my daughter has nightmares, it is Summer to the rescue. She jumps up in her bed and then she falls back to sleep. Now each child has a great pyr to walk and we are happier than ever. We all got what we needed...from a fluffy 3-yr-old rescue pyrenees. Thank you NEPR for all you do to save this special breed.
Beau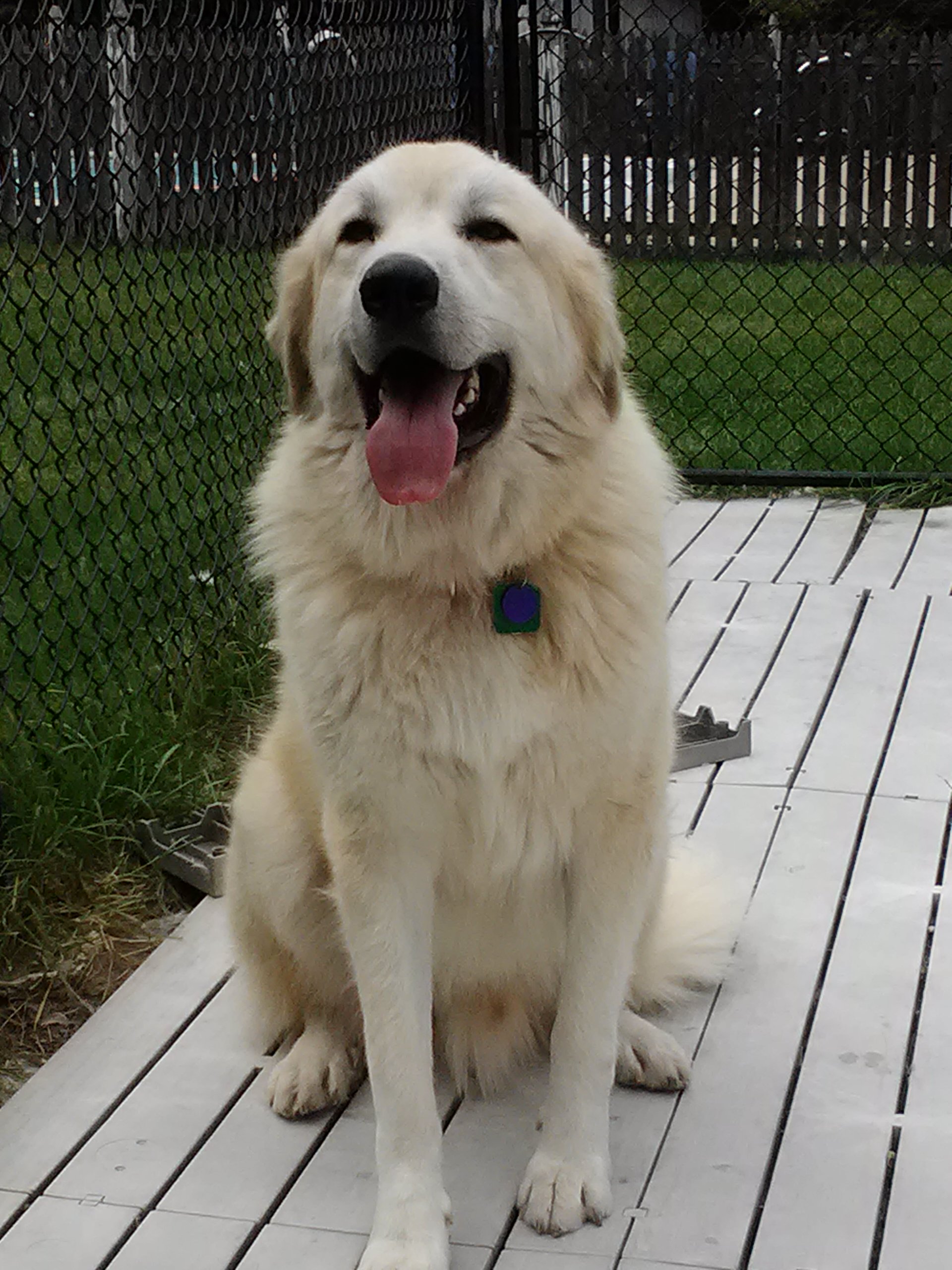 I received a phone call on Labor Day weekend asking if I might be able to foster Beau and it only took a second to say yes. I had been thinking about adopting another Pyr and the timing couldn't have been better. He was in transport from North Carolina and the person who was going to adopt him changed their mind. From the minute Beau got out of the transport truck, I knew he was a sweetheart. He is as sweet and gentle as can be and was immediately welcomed into our home by our 9-year-old Pyr Jackson and our cats. He is slowly getting used to sleeping in a house and receiving lots of kisses and hugs, something I don't think he had received a lot of in his prior life. Jackson also appears to have a new found energy and loves playing with Beau in the fenced yard. Thanks to all those involved in Pyr rescue for this wonderful companion.
Annie & Poulet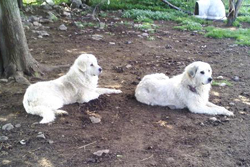 Annie and Poulet adopted by Mary Gloster and happy as Livestock Guardians on her sheep farm.

Martha & Sophia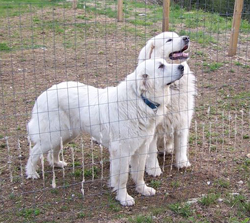 Martha is doing great! She is getting along very well with our other 2 dogs, 6 goats, 3 sheep and 3 pigs. We are very happy with her. She is so well mannered in our home. Thank you for helping us find the perfect addition to our family.

Titan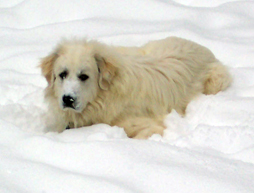 Just a quick email to everyone thanking you for directing us to Titan! He has quickly adapted to our family and we love him dearly.

Lily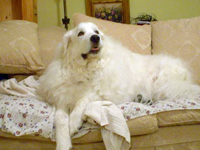 Story coming soon!

Bob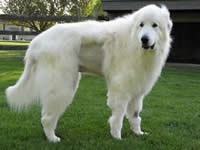 We adopted Bob who Nicole was fostering the weekend after Thanksgiving last year. We are happy to report that he is really doing well, though he is still pretty finicky about his food! I think we have managed to put a few pounds on him. We did have a scare a couple months back when he stopped eating for a few days - turns out he had a gall bladder full of stones and the bile duct was obstructed. We took him to the University of Penn veternary emergency room and he had emergency surgery to remove his gall bladder. Needless to say we were quite concerned given his age and breed but he came through with flying colors and is making a full recovery!! His fur is growing back a s you can see in the attached picture. Bob loves sitting and guarding his yard all day and gets quite animated when it is time for our walk. He goes at a pretty good pace on the way out but really dawdles on the way home! He has adjusted well to the ramp we built and has no problems getting in and out. Bob and Sophie have really warmed up to each other and having him around has really put Sophie at ease. Occasionally Bob gets quite playful and throws his toys around and runs after them - quite funny. Thanks again for allowing us to adopt Bob, he is wonderful and we love him very much! We feel like he has been here a long time as he has picked up our routines very quickly (and of course, forced us to pick up some of his as well!).

Gypsy
Gypsy is a great addition to the family, Richard loves to feed her dog bones and Grace loves to give her kisses and tell her she loves her. Of course, Mom gets to take care of all the rest of the "stuff" that goes along with her care! She is truly a beautiful girl and it is so true about her breed - Great Pyrenees are truly majestic!!

Napoleon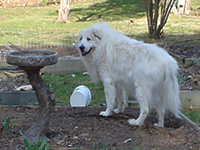 Napoleon after his grooming, and, of course, in the garden where it is nice and muddy! He is a wonderful dog - sweet, friendly and VERY easy to care for - now that his coat is manageable. I'm very glad that I have him.

Nathan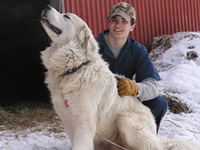 Nathan, Nate for short, spent nearly the first two years of his life being shifted around from friend to friend when his owner could not always keep him with her. He was fed "people food" (whatever that meant) or sometimes low quality dog food. As a growing boy, he was (at time of rescue) very lanky, a bit underweight and had a poor quality hair coat. His foster mom and her grandchildren fell in love with him and have decided to keep him. He's full of play and quite rambunctious (totally an undisciplined kid) but we feel with neutering, time, and training, he will settle down very well. He seems quite content in the barn around the animals and us. He is quite good with the chickens, goats, and sheep he's encountered as long as we watch that he doesn't try to play with them and hopefully will become a good guardian when he's older.

Gypsy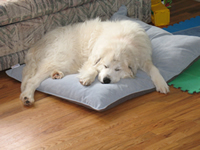 Hello all! We have a new member to our family - her name is Gypsy and she is a 3 year old Great Pyrenees. We were going to get a puppy and then we found her and the rest is history. We have had her a little over a month and the kids, we all love her to pieces. She is great with the kids and the cats and she loves the pigs. She is protective of us, she feels that it is her job to guard us and that is ok with me - I feel safer at home than I did before.

I took Gypsy for her first vet visit on Monday and she passed with flying colors. Gypsy made sure that everyone there said hello and gave her a pat on the head. No one could believe that she is a rescue dog and that someone just didn't want her anymore. She is about 90 lbs and as big as she is her heart is even bigger. My daughter tells me almost every day that she loves her and my son has to make sure he says hello to her when he gets up in the morning. As is true with most Pyr's she prefers to be out a night and sleeps outside in her doghouse every night. My husband made her a nice house and we have filled it with straw and hay so she is nice and warm out there. I don't like that she wants to be outside at night but I have come to accept that she is happy there and so we respect her wishes.

Hope you are all doing well and are keeping safe in this weather. We got about 4-6 feet of snow in the past 3 days and are slowly digging out. Gypsy loves this weather and likes to play outside and roll around in it!

Gracie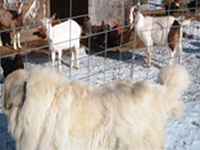 Her Highness Gracie checking her goats. In the time (1½ years) that Gracie has been with us, we have lost no animal, including ducks and chickens to predators. Gracie continues to be an incredible LGD, as well as a treasured friend. The biggest issue with Gracie is getting her to come inside when her work is done! She's getting better about it, especially in the cold weather we've been having. She realizes that there's no need to brave the elements when the barn is all locked up, and a nice warm couch is waiting for her inside. Hope all is well with you and yours. Toss another log on the fire and stay warm.

Crystal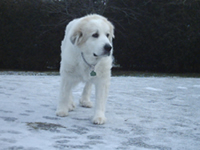 Crystal is our little polar girl! She is very camera shy but we were finally able to sneak this picture of her. Happy New Year and all the best in 2007!

Opie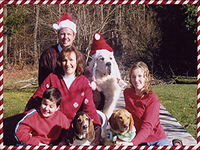 Hi! My name is Opie and this is me with my forever family. I tried to get everyone to wear the Santa hats for our holiday picture but Dad was the only one who would oblige. The others seemed to enjoy our spirit though! My Christmas wish is that all of the other pyrs out there can find their forever families like I did! They need to know they are safe and loved no matter what – forever! Please do whatever you can to make my Christmas wish come true in 2007

Kaylee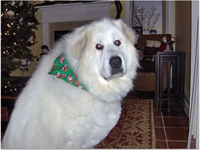 I was always interested in the beautiful large breed of a Great Pyrenees. However, with having a 10 year old Samoyed, two cats and a toddler in my home already I thought it would be a better idea to adopt a mature one. One day I came across a few on Petfinder.com. My heart was singing whe n I saw the description of Kaylee. I believed she was the perfect fit for our home. She was sweet and easy going. Still loved to play and take naps. When I first started writing to Sue about Kaylee I was getting more and more excited to pick her up. I went through the process and adoptio n paperwork with ease and spoke to a few other volunteers to coordinate a pick up spot and a phone interview. My Samoyed was getting a new friend and it was going to be Kaylee. To my excitement I was able to pick her up at a Dog Show in November. She was so adaptable to me as soon as I took the lead from Sue. She walked right into her new home and introduced herself to her new furry friends and my son. I also had her groomed and the groomers were amazed at how easy going she was. They reconfirmed how she is a GREAT dog. It has been several weeks now and everyone is home for the holidays. Maybe next year I can get them all to pose for a picture. (Smile)

Ben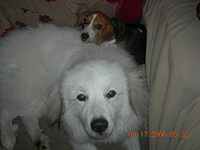 Ben is doing great and getting fatter and fluffier everyday. His Mom says they can't imagine our lives without him. Ben's 8-year-old human sister adores him and is proud to walk him with him heeling right by her side! She teaches him new tricks all the time. He loves car rides and is happy to go with them whenever he can. He still gets a little nervous around new people and garbage cans, etc., but he has come a LONG way. "Mom" feels confidant that they will work through all his phobias in time. He loves other dogs so much that they started working with a local rescue group taking in foster dogs. So far, we've had a lab and a beagle and Ben loves it.

Snowy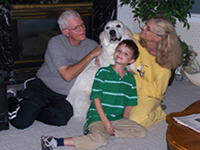 Snowy is great, she snores in her sleep, grunts when you brush her, loves her walks and any food left on the counter she gobbles very quietly, she is the best dog we have ever had.

Zach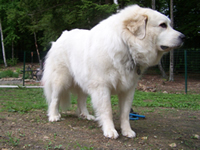 Zach came to live with us 2 years ago. He didn't like walking on leash, riding in cars, or stairs. He now loves walking, rides, and stairs don't bother him. Zach is a great guard dog, no chipmunk can come in his yard. He will bark an alert warning, announcing all visitors. Zach has become such a loyal and protective family member. My neighbor's grandson, Aiden, took Zach's pictures to school for a show and tell. The other children thought he was a polar bear. Zach loves to snuggle with you and loves attention from the ladies. My husband has nicknamed him "The Fonz."

Gracie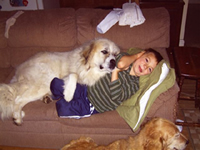 My wife took these pictures of our grandson, Jake, along with the Princess (Gracie). As you can see, the graceful one has turned out to be an excellent "utility" dog. She is both a fine LGD, as well as a beloved pet and friend for all of us. When Jake is here Gracie focuses on two things, our grandson and her job guarding our stock.

Olivia & Oliver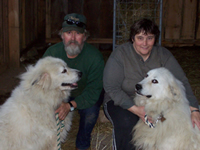 We got Olivia & Oliver this past June to watch over our alpacas and goats.The coyotes were getting closer to the barnyard with no outside dog. Thanks to Sue, she told us about 2 dogs, a brother & sister in Maine. We even knew the foster parents and quickly made a date to see the dogs. It was love at first sight. We took both dogs home, replica horloges we were going to just get one, but couldn't bear to split them up. They are both wonderful dogs and haven't regretted it. Thanks so much to Sue and the rescue group